ADAM A Tablets
Type ② Medicine

dosage form : Film-coated tablets
Features
This product of small film-coated tablets is easy to take, well absorbed in body and shows its analgesic and antipyretic effects rapidly.
Ibuprofen, the main ingredient, is effective for relief of pain and fever by inhibiting the generation of prostaglandin which causes the pain and fever.
Allylisopropylacetylurea and anhydrous caffeine assist the analgesic and antipyretic effects.
This product shows its effects rapidly and excellently for headache, toothache, menorrhalgia and fever etc.
LOXOPROFEN Tablets - KUNIHIRO
Type 1 Medicine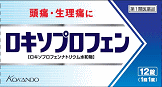 dosage form : Uncoated tablets
Features
Pain and fever is caused by prostaglandin that is made by body.
This product contains Loxoprofensodium hydrate antipyretic component that can suppress the production of prostaglandins. It is especially effective for fever and pain.