BIENYAKU A - KUNIHIRO
Type ② Medicine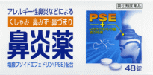 dosage form : Uncoated tablets
Features
This product contains pseudoephedrine hydrochloride, which is a well-known medicine for rhinitis in Europe for its excellent safety and efficacy.
Glycyrrhizinate dipotassium reduces inflammations in throat and nose to improve rhinitis symptoms.
This product contains five active ingredients and is highly effective against sneeze, runny nose, nasal congestion and other unpleasant symptoms caused by rhinitis.
This product is easily portable in its blister package. It can be used in children from age of 7 years.
ALLERBI

Type 2 Medicine

dosage form : Film-coated tablets
Features
In recent years, the cases of allergic rhinitis caused by pollen and house dust have been increasing. There is nothing more painful than suffering from runny nose and sneezing on some occasions, such as while you are at work or on the train.
Take one tablet twice daily and Allerbi will relieve the allergic rhinitis symptoms, such as runny nose and sneezing.