ANTI ALLERGIC Tablets - KUNIHIRO
Type 2 Medicine

dosage form : Uncoated tablets
Features
This product is antihistamine and anti-inflammatory drug with vitamin B6.
The anti-histamine agent is effective against skin itching, rash and urticaria.
This product improves runny nose and stuffy nose caused by pollens.
Vitamin B6 is essential for health of skin and mucous membranes.
NORIMONOYOINOKUSURI - KUNIHIRO
Type 2 Medicine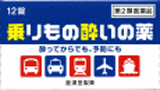 dosage form : Uncoated tablets
Features
This product is for motion sickness which causes discomfort during travel. Take one tablet half an hour before going out to prevent dizziness, nausea and headache.
Since meclizine hydrochloride (antihistamine agent) works by stopping histamines from stimulating central nervous system (vomiting center), the medicine can also be taken after motion sickness has started.
NODONI TROCHE
designated quasi-drug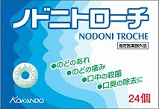 dosage form : Troches
Features
This product is throat lozenge (troche) containing the following ingredients:"Cetylpyridinium chloride" for disinfection of mouth/throat " Dipotassium glycyrrhizinate" for inflammation and pain in throat"Platycodon extract" for throat pain/discomfort
The lozenges are intended to be slowly dissolved in the mouth for maximum effect.
Easily takable ring shaped lozenges.
JIYOUKYOSOUYAKU α
Type 3 Medicine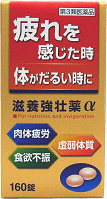 dosage form : Sugar-coated tablets
Features
This product contains "Siberian ginseng powdered extract", "Astragalus root powdered extract", "Oxoamidine powder (from garlic)" for revitalizer.
It also contains L-arginine and 6 vitamins (B1, B2, B6, E, C, Nicotinamide) for supplement.
Recommended for those who are easily tired or have low stamina.
HEPAFIT
Type 3 Medicine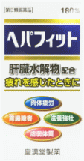 dosage form : Sugar-coated tablets
Features
Hapafit is mainly made from healthy and fresh mammal liver, adding digestive enzymes in the liver hydrolysate as component which is easy to digest and absorb, together with other three kinds of vitamin as diisopropylamine dichloroacetate (vitamin B15), riboflavin (vitamin B2) and E Vitamin. It is recommended as tonic healthy products.
It will be very helpful and tonic nutrition for those are always feel tired, lack of physical strength, eat too much, drink too much as well as those who feel sick of the stomach.
HEPAFIT
Type 3 Medicine

dosage form : Sugar-coated tablets
Features
Hapafit is mainly made from healthy and fresh mammal liver, adding digestive enzymes in the liver hydrolysate as component which is easy to digest and absorb, together with other three kinds of vitamin as diisopropylamine dichloroacetate (vitamin B15), riboflavin (vitamin B2) and E Vitamin. It is recommended as tonic healthy products.
It will be very helpful and tonic nutrition for those are always feel tired, lack of physical strength, eat too much, drink too much as well as those who feel sick of the stomach.
Made as portable convenient package